The Show
Sunday Morning Gospel is a 4 hour weekly look into the world of Country & Southern Gospel Music both new as well as the great classics!
The show features a long roster of current Southern Gospel artists such as Brian Free, Karen Peck & The Kingdom Heirs to name a few, but also keeps up with the current Country Gospel side of the music industry such as gospel releases from Alabama, Alan Jackson, Brooks & Dunn, T Graham Brown & others or those who have classic gospel songs available.  Also, some current main stream country artist that include acceptable gospel songs in new projects would be included as well such as Hillary Scott, Cody Johnson, Reba McIntyre and others.  Always family friendly content and acceptable for all age groups.  Current List of Affiliates carrying SMG:
WKSJ 94.9 Mobile/Pensacola 6 to 10am CST
WWIC 1050 AM Scottsboro AL
WCIT 98.5 FM/940 AM Lima OH 6 to 10am EST
WMCG 104.9 Milan GA 7 to 11 EST
WBBV  100.3 The River, Vicksburg MS
KWBZ 107.5 The Lake, Monroe City MO 9 to 10am (1st Hour)
WPTM 102.3 FM Roanoke Rapids NC
KPOP HD-2 Tulsa OK
WYND 96.1 FM & 1310 AM Deland FL
KSEY 94.3 FM & 1230 AM Seymore TX
KNES Texas 99.1 FM Fairfield TX
WCJM 100.9 The Bull, West Point Ga
KKLS The Cowboy, 104.7 & 920am, Rapid City SD
KHBR 1560am Todays Best Country, Hillsboro TX
Country Gospel Radio, Essex UK
CIYU 106.3 Ft Mckay Alberta Canada
WOKA 106.7 FM The Buck, Douglas GA
WRJW 106.9 FM & 1320 AM, Picayune MS
KTPB The Hog, 98.1 FM, Pine Bluff AR
KBRB 92.7 & 1400 AM, Ainsworth NE
WJAW 100.9 FM McConnelsville OH
WSLV  105.1 FM & 1110 AM, Ardmore TN
WLSK Country Mike 100.9 Lebanon, KY
KIKO The Bull, 1340 AM Apache Junction AZ
WHJC 106.7 FM & 1360 AM Matewan/Pike Co KY
WFMH 95.5 FM, Hackleburg, AL
KAGH 104.9 FM, Crossett AR
KXLO 106.9 FM & 1230 AM, Lewistown MT
WDWG 98.5 FM, Rocky Mount NC
WRBI 103.9 FM, Batesville IN
WRBE 106.9 FM, Lucedale MS
Country Roads WSDQ 93.3 FM, Dunlap TN
WKKR 97.7 FM The Kicker, Auburn AL
KNDC 106.7 FM & 1490 AM, Hettinger ND
KYRN Mine Country 102.1 FM, Socorro NM
WWRW 105.5 FM The Hank Lexington KY
WIGN 92.1 FM & 1550 AM Bristol VA
WTBF 94.7 FM Troy AL
KCAA 102.3, 106.5 FM & 1050 AM Redlands CA
KCGK 104.1 FM Cape Girardeau, MO
WPYB 1130 AM, Benson NC
KD 94 Country 94.1 FM Downs KS
WLIV Country 920 & 104.7 FM Cookeville TN
KWMW Your Country W105 Lovington NM
KPEL 96.5 FM Lafayette LA
KNCW 92.7 FM North Central Washington's Best Country Omak Wa
WXBW Big Buck 101.5 Huntington WV
KGBR 92.7 The Bridge, Gold Beach OR
WQCH Q-Country 93.7 FM & 1590 AM Lafayette GA
KFYN 104.3 FM The River Paris Tx
KRUN Country 1400 AM Ballinger TX
KWCL Oldies 96.7 FM Oak Grove LA
WLHR Country 92.1 FM Lovonia GA
KTJS Great Plains Country 102.1 FM & 1420 AM Hobart OK
KXXX Farm-n-Country 790 AM, Colby KS
KBKK K-Buck 105.5 FM Alexandria LA
WGOH The Tradition 100.9 & 1370am Grayson KY
KLVC True Country 92.7FM Mansfield LA
KAAN Regional Radio 95.5 FM Bethany, MO
KWEY "The Coyote 95.5 FM & 1590 AM Weatherford OK
WCCK Classic Country K95.7 FM Paducah KY
KALP Big Bend Radio, 92.7 FM Alpine TX
KERP The Marshal 96.3 FM Dodge City KS
WTNY 790 AM, 95.9 FM Watertown NY
WHOP 95.3 FM Hopkinsville KY
KKAY 1590 AM & 106.9 FM New Orleans LA
KOKX 93.3 & 1310 AM Keokuk, IA
Inspire FM 106.3 On the Island of St Martin
KPYK 1570 AM, 102.5 FM Terrell TX
---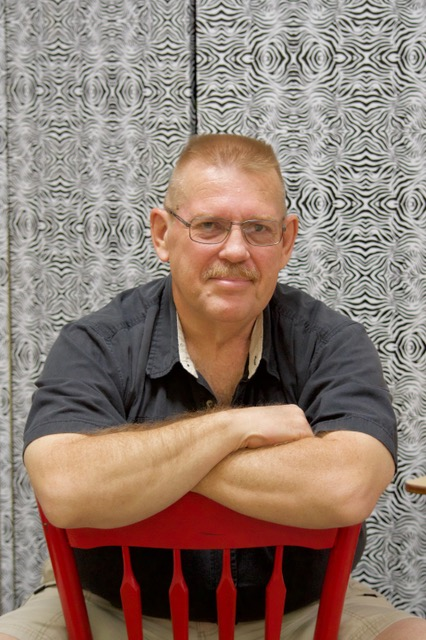 About Cliff Baugus
Cliff was born in Santa Monica CA, but was raised in Dallas Texas. Radio in the 60's was solid AM with speakers as big as your transistor radio. He remember's a show that aired on KLIF Dallas (the Mighty 1190) that was billed as "The Greatest Concert Event of the Century". It featured the Beatles, Cream, Credence, the Who and every other group and singer you can name. It lasted 6 hours and he listened to every second of it. Cliff soon figured out all they did was put applause tracks between records, but he was hooked on radio from then on. He soon rigged up a short wave radio in his room and would play "DJ" until the police showed up to shut him down. It was the same frequency as the police radios and they were not happy. His first "Full" time radio job was in Henderson TX after he got home from the Navy. Cliff would play everything from Rock to Country to Gospel and anything else he could bring from home. Saundra and Cliff moved to the Mobile area in 82 where he worked in Country radio until 2010.
The Artists
Keep in touch with your favorite groups & singers you hear on SMG! Click on links to go their sites.
Current Shows
Here is our list of our current shows